We are so incredibly grateful to have these amazing people joining us for the conference to share their gifts, talents, and passions.
Keynote Speakers and Preachers
The Rt. Rev. Diana Akiyama
The Rt. Rev. Diana Akiyama was born in Wheeler, Oregon and grew up in a Japanese-American community in Hood River. Bishop Akiyama was the first Japanese-American woman ordained to the priesthood in The Episcopal Church in 1989 by the Rt. Rev. Rustin Kimsey, Diocese of Eastern Oregon. She holds a Ph.D. in Religion and Social Ethics from the University of Southern California (2001), a M.Div. from Church Divinity School of the Pacific, Berkeley (1988), and a B.S. from the University of Oregon (1981). Before returning to Oregon to serve as our 11th bishop, she served as the Vicar at St. Augustine's Episcopal Church in Kapaau, Hawai'i and as Dean at Waiolaihui'ia School of Formation for the Episcopal Diocese of Hawai'i.
Bishop Akiyama's passion for living into the charisms of preaching, teaching, and the sacerdotal work of the priesthood continues to form her as a spiritual leader. Speaking the truth in love expressed through authenticity, trustworthiness, compassion and clarity of vision are the hallmarks of her spiritual leadership. "I am energized when my leadership helps communities to shift assumptions, restore expectations, and imagine a new way forward. Listening with empathy, courage and openness allows me to walk with individuals and communities to connect their deepest yearnings with God's call," Bishop Akiyama stated.
Her gifts as a spiritual leader find their fullest expression in work centered on discerning how God is calling each of us to participate in the Beloved Community. She is continually awed by the Holy Spirit's activity in and through each of us, and will continue this work in the various opportunities to walk with the people of the Diocese of Oregon.
Presiding Bishop Michael Curry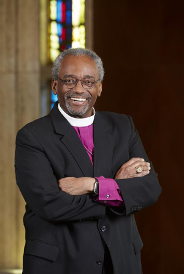 The Most Rev. Michael Bruce Curry is Presiding Bishop and Primate of The Episcopal Church. He is the Chief Pastor and serves as President and Chief Executive Officer, and as Chair of the Executive Council of the Episcopal Church.
Presiding Bishop Curry was installed as the 27th Presiding Bishop and Primate of The Episcopal Church on November 1, 2015. He was elected to a nine-year term and confirmed at the 78th General Convention of The Episcopal Church in Salt Lake City, UT, on June 27, 2015.
The descendant of enslaved Africans brought to North America by way of the trans-Atlantic slave routes, Presiding Bishop Curry was born in Chicago, IL, on March 13, 1953. Presiding Bishop Curry's father was an Episcopal priest and his mother was a devout Episcopalian. She died at a young age, and Presiding Bishop Curry, along with his sister, was raised by his father and his grandmother. His father, mother and grandmother grounded him in Christian beliefs and practices through their example and their teachings.
He attended public schools in Buffalo, NY, and, even at a young age, he learned about social activism through his father's leadership and his own dedication to righting a broken world.
Presiding Bishop Curry was graduated with high honors from Hobart College in Geneva, NY, in 1975. He received a Master of Divinity degree in 1978 from Yale University Divinity School in New Haven, CT. He has furthered his education with continued study at The College of Preachers, Princeton Theological Seminary, Wake Forest University, the Ecumenical Institute at St. Mary's Seminary, and the Institute of Christian Jewish Studies. He has received honorary degrees from Episcopal Divinity School; Sewanee: The University of the South; Virginia Theological Seminary; and Yale.
He is married to the former Sharon Clement, and they have two adult daughters, Rachel and Elizabeth.
Presiding Bishop Curry maintains a national preaching and teaching ministry, having been featured on The Protestant Hour and as a frequent speaker at churches, cathedrals, and conferences around the country and internationally.
He has authored five books: Love is the Way: Holding on to Hope in Troubling Times (2020); The Power of Love (2018); Following the Way of Jesus: Church's Teachings in a Changing World (2017); Songs My Grandma Sang (2015); and Crazy Christians: A Call to Follow Jesus (2013). He was one of the subjects of In Conversation: Michael Curry and Barbara Harris by Fredrica Harris Thompsett (2017).
He has authored numerous publications including columns for the Huffington Post and the Baltimore Times.
In 2018, Religion News Association named Presiding Bishop Curry religion newsmaker of the year.
The Very Rev. Dr. Kelly Brown Douglas
Dean, Episcopal Divinity School at Union Theological Seminary
Bill and Judith Moyers Chair in Theology, Union Theological Seminary
Canon Theologian, Washington National Cathedral
Theologian in Residence, Trinity Church Wall Street
The Very Reverend Dr. Kelly Brown Douglas was named Dean of the Episcopal Divinity School at Union Theological Seminary and Professor of Theology at Union in September 2017. She was named the Bill and Judith Moyers Chair in Theology in November 2019. She also serves as the Canon Theologian at the Washington National Cathedral and Theologian in Residence at Trinity Church Wall Street.
Dean Douglas' academic work has focused on womanist theology, sexuality and the Black church, and social justice. Prior to Union, she served as Professor of Religion at Goucher College where she held the Susan D. Morgan Professorship of Religion and is now Professor Emeritus. Before Goucher, she was Associate Professor of Theology at Howard University School of Divinity (1987-2001) and Assistant Professor of Religion at Edward Waters College (1986-1987).
Dean Douglas is the author of many articles and books, including Sexuality and the Black Church: A Womanist Perspective and Stand Your Ground: Black Bodies and the Justice of God. The publication of her next book, Resurrection Hope: A Future Where Black Lives Matter, is forthcoming.
Ordained as an Episcopal priest in 1983, Dean Douglas holds a master's degree in theology and a Ph.D. in systematic theology from Union.
The Rev. Dr. Altagracia Pérez-Bullard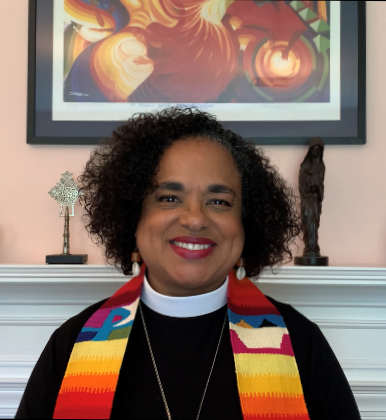 The Rev. Altagracia Pérez-Bullard, Ph.D., is the Director of Contextual Ministry and Assistant Professor of Practical Theology at Virginia Theological Seminary in Alexandria. Before joining the VTS faculty, she served as the Canon for Congregational Vitality in the Episcopal Diocese of New York. Through church leadership development, both lay and clergy, she assisted congregations as they engaged and collaborated with their changing contexts to bring new life to their communities. She has served the Church for over thirty years as a youth minister, community leader, and priest in the Dioceses of New York, Chicago, and Los Angeles.
Dr. Pérez-Bullard has brought leadership to the issues of HIV/AIDS, youth violence, worker justice and a living wage, health disparities in communities of color, housing, and community empowerment. In each of these areas, she has sought to build bridges and create alliances between communities across lines of difference, whether they are characterized by race, ethnicity, class, gender, sexuality, or physical and mental abilities. Altagracia holds a Ph.D. in Practical Theology from Claremont School of Theology, CA, an M.Div. and STM from Union Theological Seminary, New York and B.S. in Educational Psychology from New York University.
The Rev. Becca Stevens
Becca Stevens is a speaker, social entrepreneur, author, priest, founder, and President of Thistle Farms. As an entrepreneurial leader, she has established 10 justice initiatives and has raised over $55M in funding. Stevens leads important conversations across the country through speaking, advocating, preaching and writing. She walks the line between pragmatism and poetry in her message that love is the strongest force for change in the world.
Stevens founded Thistle Farms in 1997 with a single home for survivors of trafficking, and addiction. Almost twenty-five years later, it is a global movement for women's freedom. Today the Nashville flagship includes a residential program that serves as a national model for women's recovery, and three justice social enterprises that provide jobs to survivors—amounting to $4M in earned income last year. Stevens also developed the Thistle National Network to provide tools, workshops, and conferences to support young organizations wanting to follow its holistic model of recovery, as well as Thistle Farms Global Shared Trade, which supports 1,400 artisan survivors in 22 countries.
Additional enterprises Stevens has helped establish include the Center for Contemplative Justice and Larkspur Conservation in the U.S., as well as Escuela Ann Stevens and Sibimbe in Ecuador, Moringa Madres in Mexico, and Love Welcomes in Greece.
Stevens has been profiled on PBS NewsHour, The Today Show, CNN, ABC World News and in The New York Times. Her many awards include CNN Hero, White House Champion of Change, Humanitarian of the Year by the Small Business Council of America, Tennessee Human Rights Outstanding Service Award, and induction into The Entrepreneur Center's Hall of Fame, and Tennessee Women's Hall of Fame. Becca attended the University of the South and Vanderbilt Divinity School, receiving alumnae distinction awards from both. Stevens has also been conferred multiple honorary doctorates.
Stevens speaks to a broad range of non-profit, religious, and business audiences—often in bare feet to show solidarity with those she serves. Drawn from 25 years of leadership in mission-driven work, the courageous stories of women survivors, and wisdom from nature and healing traditions, Stevens inspires and motivates audiences everywhere with practical and loving steps to inspire change in individuals and communities. Her next book is slated for August 2021 on Harper Horizon.
Workshop Leaders
The Rev. Stacy Alan
The Rev. Stacy Alan (she/her) has been chaplain at Brent House, the Episcopal campus ministry at the University of Chicago, for the past sixteen years. What began as a "simple" capital campaign has, through their work with Joe Merlino, become a process for developing ongoing, vibrant relationships and engagement with alums, friends, donors, and partner organizations.
The Rev. Anna Broadbent
The Rev. Anna Broadbent is the Associate for Outreach Ministries at St. James Cathedral in Chicago, IL where she also leads St. James' young adult ministry. Anna is also a chaplain in the US Army Reserves, were she spends most of her time supporting and counseling young adult soliders. Prior to her time in seminary at Virginia Theological Seminary, Anna, a Liscensed Professional Counselor, worked in the adolescent court system in the District of Columbia providing community based mental health treatment to youth and their families.
Paul Carling
Paul is the recently retired Chaplain of the Episcopal Church at Yale (ECY) which, over the last seven years, has grown from a handful of undergrads to serving over 100 undergrads, grad and professional students, and young adults from 21-39. ECY trains seminarians in young adult and campus ministry, supporting many for ordination, and has built enduring partnerships with other campus ministries, parishes and Yale's Episcopal seminary, and this year, has created an endowment to support a full time Episcopal Chaplain at Yale in perpetuity. A clinical and developmental psychologist, Paul has founded and led a variety of non-profit organziations focused on serving people with severe psychiatric disabilities, including those with substance abuse disorders and housing insecurity, and training their service providers in recovery-oriented approaches. He has taught in multiple universities, and has a passion for understanding and promoting sustainability in social justice and social change organziations like campus ministry.
Canon Myra B. Garnes
Canon for Youth & Young Adult Ministries
Diocese of Long Island
Myra leads a ministry with young people grounded in principles of social justice and rooted in the gospel. Together, they aspire to create moments in which they will experience God and grow in their faith so that they feel loved and will welcome others. Myra is currently serving the wider church as a Catechist with Baptized for Life: An Episcopal Discipleship Initiative and as a member of the Councils of Advice for Black Ministries and Youth Ministries. Read more about Myra here: (https://www.dioceseli.org/diocese-organizations/youthandyoungadults/canonmyra/)
Jerusalem Greer
Jerusalem Greer is the Staff Officer for Evangelism for The Episcopal Church in the Office of the Presiding Bishop and a member of the Way of Love creation and leadership team. She lives with her husband and two teenage sons on a hobby farm in rural Arkansas. Jerusalem also serves on the Council of Advice for Episcopal Relief & Development and is the author of At Home in this Life: Finding Peace at the Crossroads of Unraveled Dreams and Beautiful Surprises (Paraclete Press, 2015), and A Homemade Year: The Blessings of Cooking, Crafting and Coming Together (Paraclete Press, 2013), as well as several curricula. She enjoys binge-watching campfires on her days off.
Sierra Kacher
Sierra Kacher (she/her) is a life-long Episcopalian and has served various ministries across the Church as a youth minister, camp staff, formation leader, program director, and volunteer. She is currently a full-time student at Virginia Commonwealth University studying Human and Organizational Development.
Lilly Lewin
Lilly Lewin Lilly is a worship curator, speaker, author, artist, and founder of thinplaceNASHVILLE, and freerangeworship.com She creates sacred space prayer experiences and leads workshops & retreats across the country and beyond. Her passion is to help people of all ages engage God using all their senses and bring art & artists back to church. Lilly and her husband Rob live in Nashville, TN where she's on the lookout for good coffee, dark chocolate & the best place to watch the sun set. She is a big fan of Instagram @lillylewin, writes a weekly blog post called freerangefriday at godspacelight.com and creates resources for worship at freerangeworship.com. 
The Rev. Nelson Mendoza
The Rev. Nelson Mendoza (He/They) is a graduate from the Seminary of the Southwest in Austin, TX and currently a curate in Tucson, AZ. Prior to seminary, Nelson was a community organizer around LGBTQIA+ equality and inclusion, interfaith community building, race and reconciliation work, and much more. He has a passion for social innovation, young adult/professional empowerment, civic engagement, and service leadership.
Joe Merlino
Joe Merlino (he/him, MA Practical Theology from Church Divinity School of the Pacific) is a church fundraising consultant based in Albuquerque, NM. Focusing on Episcopal ministries, Joe views fundraising as a ministry of connection and works with clients to make the transition from fundraising as a series of transactional requests for money to opportunities for deeper and more meaningful donor experiences of giving.
Steve Mullaney + Gretchen Roeck
(may not be actual picture of presenters...)
Steve and Gretchen serve at the University Episcopal Community in Minneapolis where they're about to kick off Year Four of small group ministry. Inspired by the creativity, passion and humor of the young adults they work with, Steve and Gretchen enjoy being led by the students to the new places that God is taking the Church.
The Rev. Katie Nakamura Rengers
Katie Nakamura Rengers serves as the Presiding Bishop's Staff Officer for Church Planting. She lives in Birmingham, AL, where she planted a non traditional Episcopal Community called The Abbey. The Abbey ran a coffee shop ministry for four years, before "settling down" and becoming a worshiping community. Katie is especially energized to work with church planters who are actively engaged with their neighbors, are imagining new forms of worship, and who are reaching out to people historically underrepresented in the Episcopal Church.
The Rev. D. Scott Russell
Scott served for 10 years as the Episcopal chaplain at Virginia Tech (2003-2013) and has served at Rutgers since 2016. Scott is also the chair of the LGBTQ Commission of the Diocese of New Jersey. One of Scott's ministry passions is his work with the various communities of the LGBTQIA+ community, as well as neurodiverse populations. An exvangelical, he is also passionate about interfaith and ecumenical work, seeking greater understanding between those of different faiths, no faith, and those wounded by faith.
Bronwyn Skov
Bronwyn Clark Skov - Officer for Episcopal Youth Ministries has been a member of the Presiding Bishop's staff since 2009 and coordinates the Episcopal Youth Event, the General Convention Official Youth Presence, and other events, projects, and gatherings of the Office for Youth Ministries and Department of Faith Formation. In her spare time, she volunteers for the National Ski Patrol and spends summers along the Mississippi River either boating or motorcycling with her recently retired husband.
Kathy Staudt
As a college and seminary teacher, spiritual director and writer, Kathy Staudt has had a lifelong passion for working with adults in their 20s and 30s, especially as people in this age group find meaning and purpose in their lives by exploring questions of vocation.. She delights in the unique and particular ways God calls each of us to serve and support what Verna Dozier has called "the Dream of God." Kathy lives out her own vocation to prayer and action as a lay leader and educator in the Episcopal Church. Her teaching often emphasizes Christian practices of "discernment" –those prayer practices that help us to attend honestly and deeply to God's invitations in our lives, and to live out those invitations as faithful disciples of Jesus. She has facilitated a multiyear ecumenical Bible study program for young adults , and she offers frequent retreats and workshops on Christian Vocation, writing and prayer in Virginia Seminary's Lifetime learning program and at area churches. Much of her teaching is drawn together in her new book, Shaping a Faithful Life: Discernment and Discipleship for Young Adults, forthcoming from Church Publishing in the summer of 2021. Her website is at kathleenstaudtpoet.com
Scott Stoner
Scott Stoner is the creator and director of the Living Compass Spirituality and Wellness Initiative. He a long-time student of improv comedy, something that has helped him learn to take himself and his work a lot less seriously. As a priest and family therapist, he knows the value of being fully alive to the present moment and that Jesus is our primary model for what that looks like for us as people of faith.
Todd Thomas
Allen Wakabayashi
Fr. Allen Wakabayashi serves as Chaplain at the Episcopal Church at Princeton, a church serving the campuses of Princeton University and Princeton Theological Seminary. After many years serving in campus ministry in the Evangelical world, Fr. Allen felt irrevocably drawn into the Anglican tradition and was later ordained as a priest. He was born and raised in Chicago and grew up in an active Japanese American church community. When he is not serving on campus, Fr. Allen enjoys getting out on local ponds and lakes to do a little bass fishing. He is married to his wife, Diane, who is also an ordained priest.
Fr. Blake Woods
Fr. Blake Woods is an Episcopal priest and has been the Chaplain to the University of Oklahoma since 2013. He is the Province 7 coordinator for the Young Adult and Campus Ministry Advisory Council, as well as the clergy representative on the Happening National Committee.
Alan Yarborough
Alan is the church relations officer with The Episcopal Church's Office of Government Relations, where he helps manage their grassroots advocacy engagement and develops resources aimed at educating and equipping the church in policy advocacy, church-government partnership, election and civic enagement, and civil discourse.